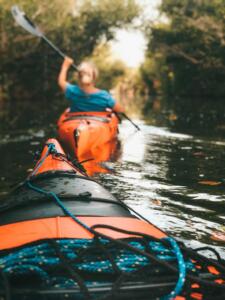 An enchanting natural secret awaits you near Eureka Springs, Arkansas-the Kings River! The Kings is the best river to float near Eureka Springs. When we say best, we mean that it has the best water quality, scenery, wildlife viewing opportunities, swimming holes, and river fishing in the area. Other tributaries may get more attention, but that trend creates more "room" for you on the Kings!
The Best River to Float Near Eureka Springs
The Kings drops more than 1000 feet from its origins in the Boston Mountains. No dams interrupt its 90-mile flow to the Table Rock Lake Reservoir. The upper section is narrow and precipitous, often giving timely paddlers an exciting ride. Near Eureka Springs, the river's cool waters flow as Class 1 rapids. But lookout for a deluge following heavy rainfall!
Float through traditional Osage Tribe hunting grounds to glimpse Otters, Raccoons, and the handiwork of Beavers shape the river's flow. Bald Eagles, Great Blue and Green Herons, and Kingfishers fish alongside you while you catch Smallmouth Bass and Flathead Catfish. Seemingly, at every bend, there is another perfect gravel bar where you pull your boat and linger near another crystal-clear pool!
Your plan is clear. Get "on the river" as soon as possible! First, check with local outfitters, to estimate water conditions on your travel dates. Hint: Your float "seasons" are often much longer than the outfitters' when you bring your own boat. Next, rent a cabin near the river and the funky Victorian delights in Eureka Springs. From here, it is all babbling brooks, bluff lines, and beautiful river bend after bend!
Take your pick of culinary delights in "Eureka!" on your way back to your cabin. Then you decide if you will share your enchanting natural secret, or keep it to yourself, for one more season.