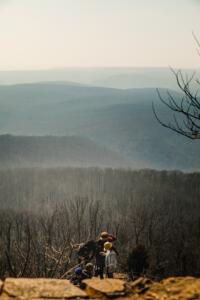 My favorite T-shirt from childhood, bought on a family vacation to Eureka Springs 40 years ago, reads "Arkansas is a Natural!" Kids of all ages from the Texas, Oklahoma, and Louisiana flat lands are transported from the ordinary while in the Ozark Mountains. Here are 5 affordable ways to make the most of your time in Arkansas. Get away to Eureka Springs, Arkansas, and let the hills be the natural escape for you and your family!
5 Ways to "Make" a Get Away with Your Family to Eureka Springs
1. Start your day from a cabin in the woods. Sounds of birds and wind, smells of trees and flowers, and morning light filtering through leaves begin the escape.
2. Bring an iron skillet and cook meals together, on the grill. French Toast and Grilled Sausages for breakfast and a Charcoal Grilled Pizza Pie in the afternoon, do satisfy! For the freshest ingredients, go to the Eureka Springs Farmer's Market, Eureka's Oriental Fresh Market, and Eureka Market.
3. Find the best path for your family. The best pace to enjoy the Ozark Mountains is taken with your feet. Shorter as well as longer treks through this region hold surprises and wonders for your family.
4. Find the water. Swimming and paddling opportunities abound, when the weather is warm. Waterfalls and babbling brooks fill the senses even when the water is too cool for your toes.
5. End the days on a porch, or near a fire. When the sun goes down, the Ozark Mountains provide the perfect spots for reflection and conversation. Remember the day past and dream about your family's futures.