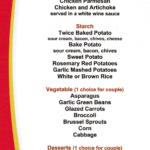 Let our cabins set the mood for the romantic getaway you need. Comfortable beds, fireplaces, whirlpool tubs and hot tubs, and luxury amenities will ensure that your stay at Silver Ridge Resort is a vacation to remember. But, how would you like to make your getaway extra special?
Personal Chef Denise Domonokos will cook a gourmet dinner for 2, in your cabin, for only $99! Enjoy a diverse menu, which includes everything from filet mignon to rosemary red potatoes, garlic green beans to orange-lemon cake.
Contact us for more information!